Custom Traffic Incident Management System (TIMs)
Digitizing Traffic Incident Management              
Egis Road & Tunnel Operations (ERTO)
is the operating agent responsible for managing, recording, and reporting all incidents across the over 1,200 kilometres of motorway and dual carriageways in Ireland. They do this at the Motorway Operations Control Centre (MOCC) which is a state-of-the-art facility at the entrance of the Dublin tunnel. This centre is the beating heart of Ireland's motorway network operations and includes management aspects of the Dublin Port Tunnel and the Jack Lynch Tunnel. ERTO needed a
customised software solution
which would help them ensure that the 65 million+ vehicle journeys per annum that take place on the national motorway network are managed efficiently and incidents are addressed safely and quickly.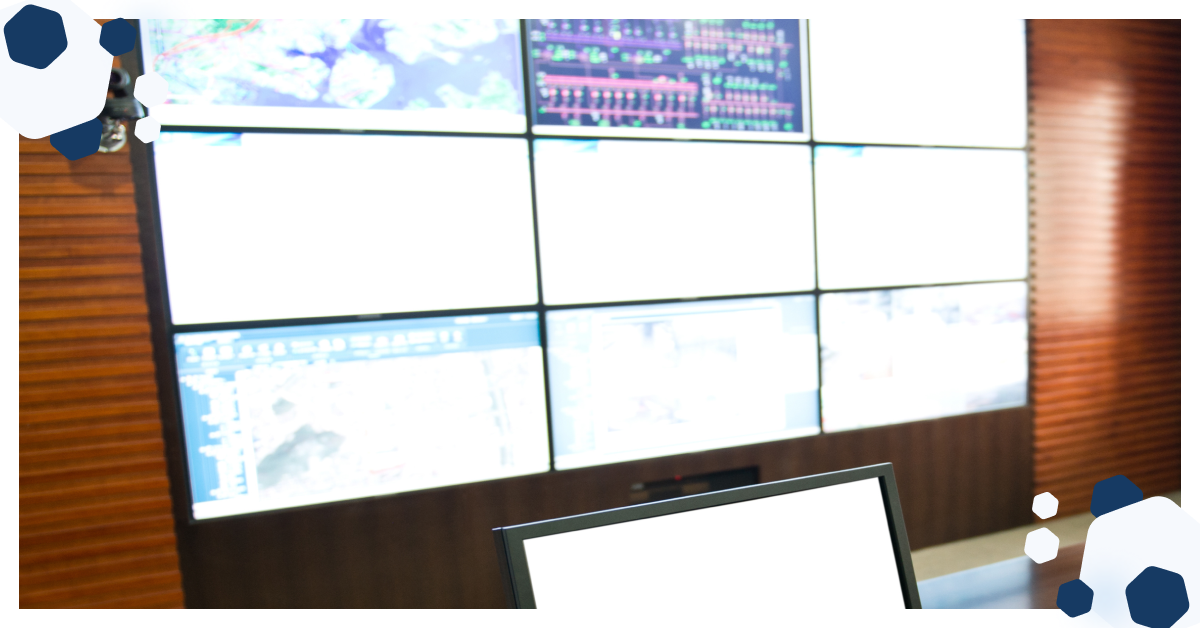 Digitizing Incident Record Keeping 
The operations control centre team were recording details of major traffic incidents, roadway debris, collisions, planned and unplanned road closures on internal paperwork. ERTO saw an opportunity to digitize the system in order to improve response times, ease the management of individual incidents, and improve record keeping. They also saw the potential of digital data to enable more insightful and sophisticated data analytics.
Coordinate Traffic Incidents Reliably, Efficently and Quickly
The communication of major incidents with multiple stakeholders including the Interagency Incident Coordination Group (IICG) which includes, An Garda Síochána (police); Fire Service; County Council's, with responsibility for the road networks, and the National Ambulance Service were being actioned by operators in the control centre over the phone. The client was eager to change to a digital system which would allow them to provide early notification of incidents and form a coordinated approach to the management of incidents on the road network. 
Bespoke Traffic Incident Software Development
The team at the Motorway Operations Control Centre needed a system which would allow them to manage incidents, communicate, share data with stakeholders in real-time, and collect data relating to road traffic incidents. They also needed to see the patterns being formed in this data in easy-to-understand dashboards, which can be searched as required to communicate, manage, and build upon their data intelligence.
Coordinating Incidents in Real Time
Operators needed a platform to log incidents, track responses, and record the outcome of all incidents across the motorway network 365 days a year. In addition to the Interagency Incident Coordination Group the Control centre personnel also need to inform road maintenance teams, local authorities, recovery operators, AA Roadwatch, Bus Éireann and other relevant stakeholders of incidents.
Communication & Coordination: 
Incident support coordination tool

Multi-agency communication tool

Emergency roadside telephone (ERT) interoperability

Alert system for severe weather and child rescue Ireland (CRI) alerts

Automatic Tweet generation tool which allows users to inform the public of ongoing incidents via TII Traffic
Connecting data sources:
Ability to Interface with multiple API's and integrate data from external systems including traffic camera systems, weather station APIs, traffic counter systems etc....

Interface capability with variable message signs across the network
Reporting & data visualisation requirements: 
Reports per road

Reports per incident type

Incident response rates analysis

Data visualisation dashboards

Visualisation of Geolocation data

Historical data collection

Custom reporting capabilities such as heatmaps

Standardised automated monthly reporting
Bespoke Traffic Incident Management Software Solution
In weekly collaboration meetings with the client and their operatives OpenApps system architect, project manager, designers, data developers, QA and UX (user experience) teams sat down and discussed the development of a traffic incident management system (TIMs) called the Motorway Traffic Control Centre Incident Management System. The first phase of the development was the requirements gathering and planning stage, this was shortly followed by design and prototyping, development, quality assurance, testing and deployment.
The web-based platform allows the operations team at the Motorway Operations Control Centre to record, manage, and document all relevant incidents across the network by inputting the details into the bespoke software system.
Customised Incident Management Workflow
When traffic incident occurs on the road network, operators need to react in accordance with the type and complexity of the incident. The system was developed to split incidents into different categories. This makes it easy for operators to ensure that the appropriate people and protocols are followed for reliable and fast resolutions. Each incident category has a custom workflow based on the variety of situations that arise, this enables operators to reliably provide appropriate care to ensure motorist welfare and ensure that the safety of the people responding to incidents is managed. 
The incident categories are:
Customer care platform with geographical information system

Major incidents management tool

Standard incident management

Emergency road telephone incident management system

Weather incident management and communication tool

Alert system for severe weather and Child Rescue Ireland (CRI) alerts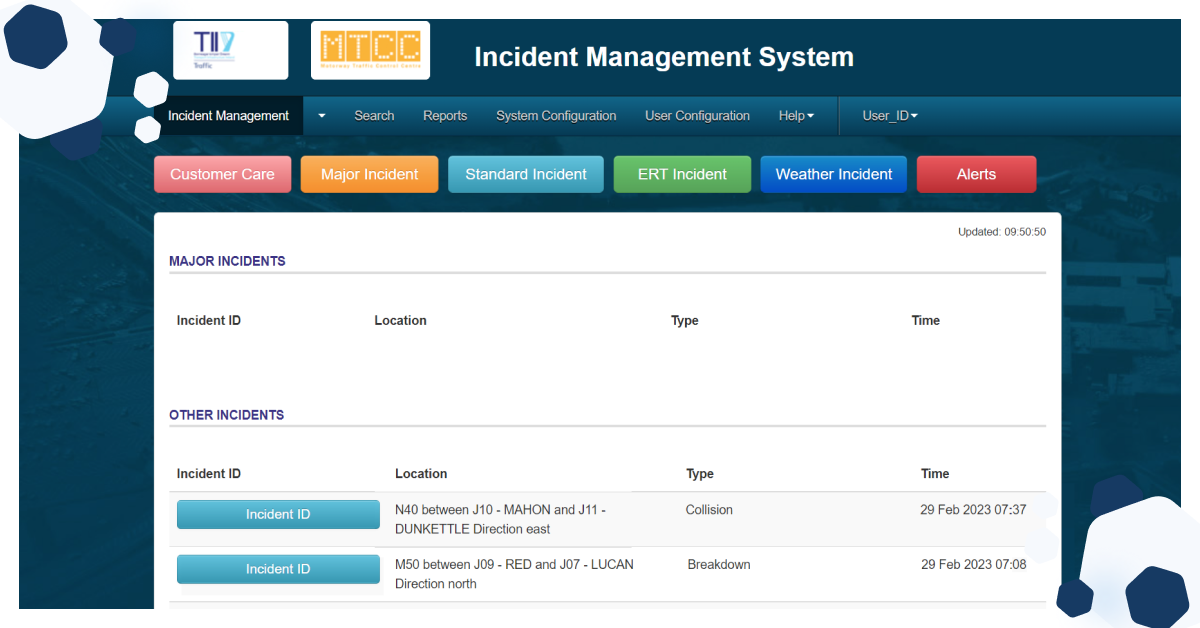 Managing Road space & Resources
Incident management tool to detect, respond to, and clear incidents

Facility for managing the road network as incidents occur

Booking system for road space, resource management and event management

Geographic location tool for managing and pinpointing resources across the network (E.g. Emergency roadside telephone, road markings, cameras, weather stations etc)
Digitized workflows enable traffic incident analysis
The platform helps the client to safeguard the safety and resilience of the road network and optimize traffic flow by bringing the benefits of technology to traffic incident management.
The system was built to cater for the wide-ranging and complex requirements of the operations control centre. The system has been continuously improved upon over the last 10 years with several added functionalities. The platform has collected 1000s of incidents across the vast network of roads for over a decade. All this information feeds into concise, easy to understand and user focused dashboards which help the client and its management team make informed decisions.
The Irish Independent reported 
From 1088 incidents on the M50 399 were collisions

The majority of incidents on the M50 happen between junction 5 Finglas and junction 9 Red Cow

Most collisions happen at rush hour between the hours of 4 and 5 pm

The majority of incidents on the M50 are rear-end collisions
OpenApp provides the client with continuous software maintenance and a service level agreement which includes access to a multidisciplinary service desk that's available to support the operations team. This enables the national system to perform optimally and maintain rigorous uptime 24/7/365. We also provide ongoing software development to augment the system.
To find out more about our custom software solutions, or to talk to us about similar work you may undertake, contact us here
Sorry, we couldn't find any posts. Please try a different search.
IQVIA (NYSE:IQV) is a leading global provider of advanced analytics, technology solutions and contract research services to the life sciences industry dedicated to delivering actionable insights. Learn more at www.iqvia.com.