OpenApp project in collaboration with the HSE wins Public Health Initiative of the year award at the Irish Healthcare Awards 2022
Now in its 21st year, the Irish Medical Times has announced the winners of the 2022 Irish Healthcare Awards. Two projects evolved by OpenApp in collaboration with the Health Service Executive (HSE), were shortlisted for these Awards, as judged by physicians, educators, patient advocates, medical journalists and the pharmaceutical industry.
Congratulations to the HSE National Health Intelligence Unit who won the Public Initiative of the Year award for the Information and mapping solutions for pandemic response.
Public Health Initiative of the Year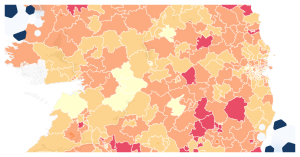 Map showing covid prevalence during pandemic outbreak prepared using Health Atlas Ireland finder application
Working in collaboration with the National Health Intelligence Unit (NHIU), the Health Protection Surveillance Centre (HPSC) HSE and the Central Statistics Office, OpenApp evolved an application to geo-reference and map the occurrence of COVID-19 cases on a national basis in close to real time. The displays include the approximate location of reported cases (within the last 24 hours, previous 2 weeks and earlier) to enable public health services to easily identify local disease clusters, and to filter cases by age group and transmission type. In addition, recent rates of COVID-19 occurrence and the change in rates over the preceding two weeks by local health service catchment areas can be viewed. Role based access restricted to staff working in all Public Health Departments was enabled.
"Seeing the work of the National Health Intelligence Unit and OpenApp being recognised at these national awards is very rewarding", said Con Hennessy, OpenApp's managing director. "We're very proud with our involvement in helping to bring evidence to healthcare and making data useful. Congratulations to all the winners!"
Best Use of Information Technology
Within the Health Atlas Ireland suite, OpenApp's Atlas Finder Module, a custom web application developed in collaboration with National Health Intelligence Unit HSE. Access is provided throughout the HSE. It allows users to identify address locations in the context of local health services and their catchment areas. It also allow users to profile the demography of any health service area using CSO Census 2016 and population projections, together with estimates of local morbidity and health benefit/risk. Users can view service sites (hospitals, health centres, GP practices etc/) and health service boundaries in the context of population density and affluence/deprivation patterns.
The Atlas Finder Module was shortlised for Best Use of Information Technology.
Sorry, we couldn't find any posts. Please try a different search.
IQVIA (NYSE:IQV) is a leading global provider of advanced analytics, technology solutions and contract research services to the life sciences industry dedicated to delivering actionable insights. Learn more at www.iqvia.com.