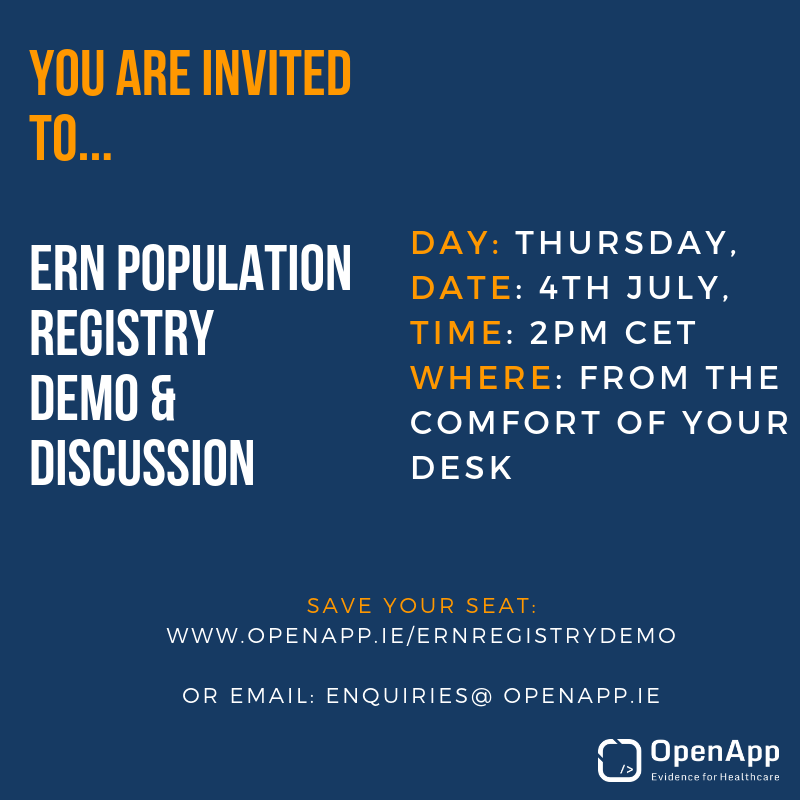 ERN Population Registry Demonstration & Discussion
Here are the Details for This Webinar:
Due to the success of the last webinar, OpenApp are delighted to host another. Here are the details:
When is it? Thursday, 11th July, 2PM CET
Where is it? Join in from your laptop/desktop
Who's doing it? Presented by Con Hennessy, CEO, OpenApp
Why should I be there? To get a better understanding of what an ERN population registry might look like.
What's it all about? An introduction to a JRC compatible ERN registry, how to collect data from multiple data sources, and how to engage patients and clinicians/HCPs. Full details below.
 Best Practices from Multiple Patient Registry Implementations
"Once you discover the key elements to a registry, it makes designing, creating and truly implementing one easier. 
Since 2002, we have worked in health informatics. We have developed a comprehensive registry platform, deployed multiple registries across chronic and rare diseases, enabled the collection of real world evidence and implemented the CPMS for ERNs.
Our registry software is in use in over 40 countries, has over 80,000 patients and in excess of 10 million data points. 
We have been working on the European Cystic Fibrosis Society Registry since 2012. This Registry was recently qualified by the EMA CHMP committee as a model it would like to see all rare disease registries follow. In 2018, the EMA CHMP committee qualified it (coverage, core dataset, governance, quality assurance approaches and completeness of core variables), to allow its use as a data source for regulatory purposes. 
Join us where we share our best practices for your implementation and see a demo of what your registry could look like."
- Con Hennessy, CEO, OpenApp
During this live presentation, you will discover:
Best Practices for Successfully Implementing your Registry. Designing your registry is just the beginning. We'll give you information so that you can ensure your registry is used over and over by all interested parties.
Data Governance & Consent. With all our registries developed to date, we get asked many similar questions frequently. We share our experience with data governance and consent.
Demonstration of Platform Ready to Deploy. Witness for yourself a demonstration of a proven, well developed registry with a core dataset ready to deploy, the JRC dataset.
How to Customise for a Disease Specific Platform. Understand how easily it is for us to customise this JRC platform to gather specific data points for the thematic, sub-thematic and disease specific areas.
How one platform can collect a wide range of data from multiple sources. There are numerous data points to collect - population, clinical/genetic registry, data warehouse, data brokerage.
Understand the possibilities for data exchange. Data can be exchanged with other data providers including the CPMS, disease specific registries and national registries.
Answer Your Questions Live. This is not a pre-recorded presentation. Join Con Hennessy live this Thursday and he'll answer your registry related questions throughout the presentation.
---
If you can't make this webinar and would still like to find out more about how a population registry can help your ERN, please email us instead at enquiries@openapp.ie and we'll liaise directly with you.


To celebrate Rare Disease Day 2023, which takes place on the 28th of February, we are changing our colours and showing our support for the Metachromatic Leukodystrophy Disease (MLD) Support Association UK. OpenApp have been working MLD support Association UK for many years under our Rare100 CSR scheme, a Corporate Social Responsibility (CSR) initiative run in 2018.
Read More
Avoca House,
189-193 Parnell Street,
Ireland.
D01 H578
Copyright © 2022 OpenApplications All rights reserved.
OpenApplications Consulting Ltd. Registered in Ireland No. 355595