European Cystic Fibrosis Society PR publish Orphanet Journal Article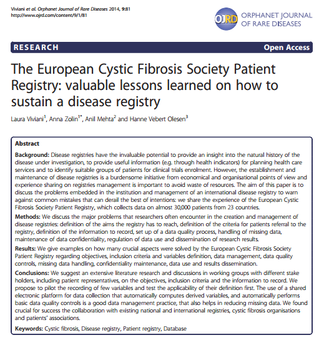 "Valuable lessons learned on how to sustain a disease registry" gives an interesting insight to lessons learned from an experienced disease registry who have grown from data collection and management through spreadsheets on a voluntary basis to a professional patient registry with full time staff and bespoke software built for purpose collecting data from over twenty countries (additional countries continuously joining).
Historical problems with data acquisition
"The use of the XML procedure has as big limitation the need of an IT-specialist to create the XML file from the data extract made by the national registry data manager. In the ECFSPR experience, this aspect was a bigger obstacle than anticipated, both practically and psychologically".
OpenApp solution:
As the main aim of most registries is to encourage maximum data collection to further quality of care and medical research, allowing flexible data entry was paramount to the ECFS cause and OpenApp solution. Consequently, data can be added to the registry via:
Online forms (with intelligent data validation to encourage data quality)
Excel/CSV/ODS upload (with intelligent data validation to encourage data quality)
XML upload as was the historic standard(with intelligent data validation to encourage data quality)
OpenApp have allowed users decide which format suits their need and allowed flexibility to ensure maximum data collection.
"One limitation of the current software(historic software, before OpenApp) is that the non-anonymous data are stored at the local hospital computer. This caused significant problems with installation and upgrading working with doctors and IT-technicians from many centres in many countries."
OpenApp developed a sophisticated browser encryption method to allow only entitled users see identifiable data. However all other anonymous data is stored in a central secure server meaning there is very little burden on local hospital IT. There is no installation required locally, with all software upgrades also performed remotely. Additionally countries and centres also have the option of installing their own server which OpenApp can manage remotely.
Examples of efficient data collection reducing labour hours
"The ECFSPR has implemented a data quality control procedure composed of two levels: one carried out by the software for data entry and another carried out by the DMU".
OpenApp's technology has implemented a number of business rules on the data, whether the data is entered to the on screen forms or by upload:
"For numeric values, the format must be correct (e.g. integer, decimal, date), and the value should be within a pre-set range or it will not be accepted. Furthermore, values outside certain age specific ranges will be flagged as possible errors, but will be accepted. For example, any value of height within the range 35–250 cm is accepted by the software, but a one-year old boy recorded as 100 cm high would be outside the age-specific range of 67–79 cm. His height value would therefore be accepted by the software but it will be flagged as a probable error to the user."
Once the user centre or country coordinator is happy with all of their patients data they upload it the ECFSPR server where the Data Management Unit performs additional statistical and internal coherency checks. The statistician then returns the issues via the software
"as a file that points directly to the patient and the erroneous values with a short explanatory text. When opening the software, the users are led straight to the error and can either correct the value or confirm it; with a free text field available to send messages of explanation to the DMU.(Data Management Unit)"
Requirements from the European Cystic Fibrosis Society
"The software for data-entry must fulfil standards of quality and security, it should be tailored to the needs of the registry, and it should be user-friendly. Ideally, the physicians should use the data collected through the software in the daily patient management, thus rewarding them directly for the data retrieval and data-entry effort. The patients that consented to have their data collected should be given graphical feedback through the software, to see the benefits of participation to the registry. The first software adopted by the ECFSPR was quite demanding in terms of on-site installation and maintenance, and the burden on the centres as well as the technical helpdesk was considerable. This was an important lesson"
OpenApp's ECFSTracker allows:
"However, with the new software, which allows real-time use in the clinical setting, the possibility of pharmacovigilance data collection is open for the centres and countries reporting directly to the ECFSPR."
"the ECFSPR has evolved from a small working group of enthusiastic and knowledgeable national registry representatives, collecting data on spreadsheet files with very little funding and resources, to a professionally run patient registry with full and part time dedicated personnel that includes an executive director, an executive coordinator, two statisticians, an helpdesk service, a governing body composed by ten people (Executive Committee), a bespoke software and extensive use of data collected from 23 countries and more than 30,000 patients."
Extracts from Viviani et al. Orphanet Journal of Rare Diseases 2014, 9:81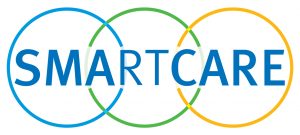 This exciting initiative combines collecting real-world patient data by neurologists, clinicians and patients to enable clinical research and engagement of spinal muscular atrophy patients receiving treatment.
SMArtCARE is a multi-year joint initiative of neurologists, paediatricians, and patients with spinal muscular atrophy (SMA). Spinal muscular atrophy refers to a group of rare genetic diseases resulting in muscle wastage and weakness. Symptom onset can be seen in both children and adults but the most severe form typically presents in children under 18 months old. Until recent treatments survival past childhood was unusual.
Read More
IQVIA (NYSE:IQV) is a leading global provider of advanced analytics, technology solutions and contract research services to the life sciences industry dedicated to delivering actionable insights. Learn more at www.iqvia.com.