OpenApp Celebrates 17th Birthday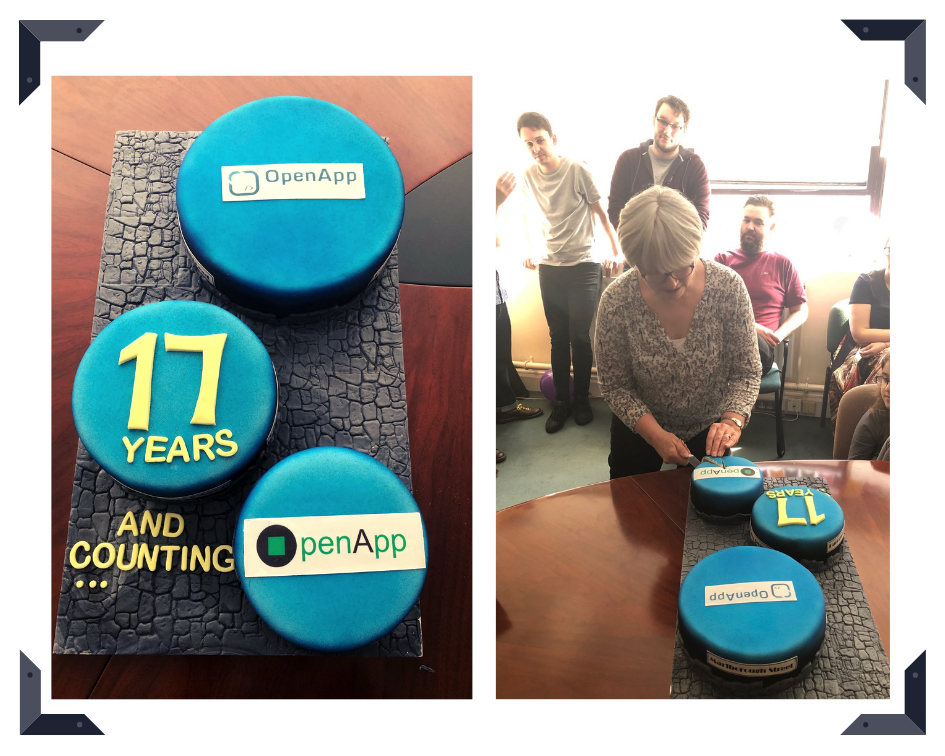 As we close the door on another April, the leadership team in OpenApp decided to take a moment to celebrate it's birthday.
It was back in April 2002 when OpenApp began in the front room of Mel McIntyre's home.
OpenApp was going to provide development, support and training for OpenSource technologies and applications based on Zope, Linux, StarOffice and related technologies.
The next year saw a number of firsts:
• The first office was in Harcourt Street.
• The first employee was Con Hennessy.
• The first Christmas party was in the Kylemore Cafe on O'Connell Street.
Over the next couple of years, the company continued to grow and moved into bigger offices in Fitzwilliam Street. OpenApp won the contract for developing Health Atlas Ireland, the platform for Health Intelligence in Ireland. It would later be honoured with An Taoiseach Public Service Award.
Two new employees came on board to work on the Health Atlas – Pawel Stwarz and David Creane, who would later become Directors and shareholders.
OpenApp moved out of Fitzwilliam Street and into an office in Fitzwilliam Square, an office with enough seating for 4 comfortably. OpenApp moved to Abbey Street when the Fitzwilliam Square office was heaving with over 10 staff.
Over the last few years, again, due to growth of the business and capacity restraints in the office, we moved into much larger offices in Parnell Street. We have grown our registry business based on our extensive experience in health intelligence and our unwavering commitment to customer service. Our agile processes means we work very closely with our clients, delivering the best solution to their challenges and problems.
We signed the contract to develop the ground-breaking Clinical Patient Management System for the 24 ERNs across Europe in 2016 and it went live in 2017.
However, Mel McIntyre, the founder of OpenApp passed away in June of 2017. We all had to cope with such a big loss in our life.
Con Hennessy became the Managing Director and has maintained the values that Mel instilled in the company. Since Mel's passing, we've built the team to over 40 employees, developed cutting edge systems for pharmaceuticals, patient organisations, clinicians and health executives.
As we closed off April, we celebrated the good and the challenging times we have had over the last 17 years as OpenApp.
Our founder may not be with us but the values of security, innovation and unrivalled customer service are still the values of OpenApp. We're proud of how our software ultimately helps to improve patients' lives.
The years 2009-2010 brought it's own challenges. Like most businesses during the Recession, it had to cut back. Four people remained – Mel, Con, Pawel and David. They focused on core work and steadily rebuilt the business.
By 2013, OpenApp had began focusing on making data useful. While we continued to develop using open source tools, we soon realised that what we helped clients achieve was more important to them than the tools we used.
We helped them to manage their business by delivering tailored, clinically and business led information systems. We delivered innovative systems and solutions which helped our healthcare clients deliver on their promises, they used data to make better decisions. Our software by easily visually representing data, made interpreting data easier.
Our space in Abbey Street became limited and so we moved to Marlborough Street.
In March 2013, OpenApp won the contract to redevelop the European Cystic Fibrosis Society Patient Registry. At the time there was 22 countries on the registry. Today there are over 44,000 patients in 38 countries.
Happy 17th Birthday OpenApp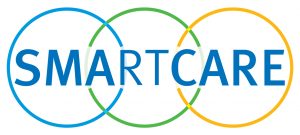 This exciting initiative combines collecting real-world patient data by neurologists, clinicians and patients to enable clinical research and engagement of spinal muscular atrophy patients receiving treatment.
SMArtCARE is a multi-year joint initiative of neurologists, paediatricians, and patients with spinal muscular atrophy (SMA). Spinal muscular atrophy refers to a group of rare genetic diseases resulting in muscle wastage and weakness. Symptom onset can be seen in both children and adults but the most severe form typically presents in children under 18 months old. Until recent treatments survival past childhood was unusual.
Read More
IQVIA (NYSE:IQV) is a leading global provider of advanced analytics, technology solutions and contract research services to the life sciences industry dedicated to delivering actionable insights. Learn more at www.iqvia.com.