2014 – A Good Year for Rare Disease Registries

What a year 2014 has been in the area of rare disease and rare disease registries. It was an active year for rare disease registries. The number of rare disease patient registries continued to grow - from just 500 in 2011 to over 620 in 2014. Here are some of the highlights that I see from 2014:
The Ice bucket challenge for ALS/MND swept the globe raising billions in cash and raising awareness of rare diseases.
The EMA announced greater fee reductions for large companies planning to market orphan drugs for rare diseases in the EU, as a further incentive for orphan medicinal product development. It also confirmed current financial assistance for SMEs.
A bill passed with commencement in 2016 means that Pharmaceutical companies and academic researchers will have to post results from all their European clinical trials in a publicly accessible database, increasing transparency and trust. These trials must be registered in a central database and a summary of results positive or negative must be uploaded within one year after the end of the trial.
The much anticipated new European Regulation on Clinical Trials was finally published in May. Under the new Regulation, multinational clinical trials will be easier to conduct, facilitating cross-border collaboration for larger clinical trials.
The much awaited ontology of rare diseases was released in February, it provides a structured vocabulary for rare diseases, capturing relationships between diseases, genes and other pertinent features, in a language directly understandable by computers.Ireland and Scotland adopted their National Rare Disease plans while Spain updated its plan.
The number of RD patient registries continued to grow from just 500 in 2011 to over 620 in 2014.
Thousands of events were held in over 80 countries worldwide to celebrate Rare Disease Day in February.
EPIRARE finalised its recommendations which state that all registries should be web-based and inter-operable throughout Europe. In addition, the EPIRARE committee has proposed that new and existing registries use a core set of common data elements.
and much much more.
We have also seen a big increase in interest in linking registries to genetic databases.
EPIPRARE100
We'll shortly announce EPIRARE 100, a free patient registry where any patient organization will be able to set up a registry with up to 100 patients based on the EPIRARE minimum data set. This will be sufficient for rare diseases with low prevalence and for regional disease registries. For larger patient populations this registry can be used as a "Proof of Concept".
The EPIRARE 100 registry is based on the same software and secured hosting services are our commercial software. There will be no time limit associated with the free version and we hope that this will replace the "spreadsheet hell" that many patient organizations were forced in the past to use.
So I'm hoping that there will be more rare disease registries this year because as one patient advocate recently said "registries are the cement of clinical research".
The best of luck for 2015.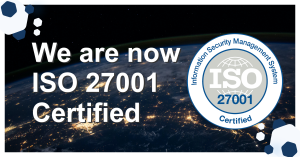 OpenApp are delighted to announce that we have now attained ISO27001 certification through a huge amount of collaborative effort by our team. This has been a goal of the company for many years, we have always strived to provide the most secure systems and services so achieving this accreditation is a massive affirmation of the work the team has been continuously doing over the years……
Read More
Avoca House,
189-193 Parnell Street,
Ireland.
D01 H578
Copyright © 2022 OpenApplications All rights reserved.
OpenApplications Consulting Ltd. Registered in Ireland No. 355595