OpenApp take home the Excellence in CSR by an SME Award in Corporate Social Responsibility Award 2018

OpenApp has been awarded the Excellence in CSR by an SME in the Chambers Ireland Corporate Social Responsibility (CSR) Awards 2018.
OpenApp won for their project Rare100. Rare diseases affect an estimated 300 million people around the world and 30 million in Europe alone. Despite this, there is no cure for the majority of rare diseases and many go undiagnosed.
Rare100 provides a free web-enabled patient registry for patient organisations supporting an ultra-rare condition. This enables organisations to gather data which will improve the lives of people suffering with rare diseases.
OpenApp's CSR programme demonstrated company-wide engagement and impressed the judging panel by performing consistently well across all aspects of CSR.
OpenApp was presented with a specially commissioned trophy designed by Waterford Crystal.
Speaking at the Awards ceremony was Sara Viegas, Product Manager, OpenApp " We are delighted to win this award. Rare100, is a feature rich, free web-enabled patient registry for patient organisations with a population of less than 100 patients.
We have a number of patient organisations who are benefiting from Rare100 including ultra rare diseases such as Tay Sachs and MSD. The CATS foundation which is the patient organisation behind Tay Sachs in the UK is close to getting a clinical trial underway, because of their patient registry. This is great news for a disease that has no known cure or treatment. We are humbled to receive this award on behalf of the company and the organisations we work with."
Ian Talbot, Chief Executive of Chambers Ireland said at the Awards ceremony,
"Ireland today is a wellspring of vital and inventive CSR practices across the business spectrum and the annual CSR Awards are the perfect opportunity to celebrate and pay tribute to the most exciting projects happening today. Over the past fifteen years of the awards, the bar continues to be raised in terms of the level of ingenuity behind each applicant's projects as well as the depth of engagement with sustainable and socially responsible goals.
Congratulations to OpenApp and the winners of the fourteen excellence in CSR award categories, whom we recognise for their achievements in best practice CSR."
Founded in 2002, OpenApp, a healthcare IT company that has grown to nearly 50 employees, are blazing a trail to support the rare disease communities.
It is the developer of the EU's Clinical Patient Management System (CPMS). Commissioned as a key project by the European Commission's, Health and Food Safety Directorate-General, the Clinical Patient Management System (CPMS) is a secure system designed specifically to help in the diagnosis and treatment of patients with rare and complex diseases. It is the IT tool on which the newly created 24 European Reference Networks (ERNs) can rely to remotely work across Europe on patients affected by rare and complex disease.
It is no stranger to facilitating the secure and confidential exchange of patient information across borders. Diseases including Cystic Fibrosis, Alpha 1, SMA, Haemophilia, Irish National Orthopaedic Register (INOR), Interstitial Lung Disease and several in Dermatology have all benefited by using OpenApp developed registries.
They are also the developers of the Health Atlas, together with HSE Health Intelligence Unit, a health intelligence analysis platform which supports the quest for better health by exploiting the quality assurance/improvement and research potential of available data.
***
About OpenApp
Based in Dublin, OpenApp is a software development and support business focused on the healthcare sector. In business since 2002 and with a staff of nearly 50, OpenApp have strategically positioned themselves into the eHealth, Patient Registry and Patient Health Record area with deployments for the European Cystic Fibrosis Society Patient Registry, The Irish Skin Foundation, The National Office for Clinical Audit National Orthopaedic Register, an International Haemophilia Study and many more.
OpenApp has developed and supported Health Atlas Ireland for the Irish Health Service Executive since 2006, a collection of Quality Assurance, Health Intelligence and Service evaluation applications for hospital and public health use.
It has grown its team from 4 in 2002 to nearly 50 in 2018.
For More Information
OpenApp
Tel: +353 1 872 9331
Web: www.openapp.ie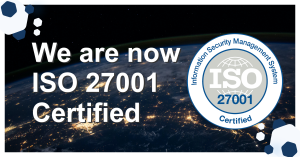 OpenApp are delighted to announce that we have now attained ISO27001 certification through a huge amount of collaborative effort by our team. This has been a goal of the company for many years, we have always strived to provide the most secure systems and services so achieving this accreditation is a massive affirmation of the work the team has been continuously doing over the years……
Read More
Avoca House,
189-193 Parnell Street,
Ireland.
D01 H578
Copyright © 2022 OpenApplications All rights reserved.
OpenApplications Consulting Ltd. Registered in Ireland No. 355595